Meet Our Donors
We thank all our planned-gift donors for their generous support. Here are some of their stories.
Gilda Mann Zimmet '89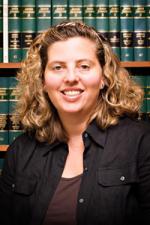 As Bryn Mawr students, we live in the moment – really absorbing all that Bryn Mawr has to offer. For me, it has been in my years as a young alumna that I have had the chance to step back and say, "Wow, Bryn Mawr had such an impact on my life." I always tell people that without a doubt, my Bryn Mawr years were the most formative years of my life. At this time, that realization can be backed up by both annual giving and planned giving. Whenever I come back to campus, I am flooded with memories that inspire me to give back to Bryn Mawr.
Read More
Regarding planned giving, I must disclose that I am an estate planning attorney and had a will prepared sooner than others. The act of estate planning is about taking care of your family and the organizations and institutions that shaped you. There is a standard clause in most wills that says, in effect, pay my debts. Well, I am indebted to Bryn Mawr, not in the traditional sense of indebtedness, but in ways that made me want to leave something to Bryn Mawr in my will. In my case, it is a simple bequest, but there are many ways to make a planned gift. Everyone who knows me knows that I love Bryn Mawr. Twelve great years yielded lasting friendships, intellectual growth, and wonderful relationships with teachers.
To young alumnae, I would say that you shouldn't wait to have a will and that remembering Bryn Mawr in your will can be very easy, whether the amount or percentage you are bequeathing is small or large. Certainly, as you accumulate assets during your lifetime, you may be in a position to increase your bequest. Often bequests can benefit family members and Bryn Mawr at the same time. I would also say that planned giving is not just for the rich; it is for anyone who wishes to express gratitude for her experiences and learning at Bryn Mawr, even if the size of the gift is modest.
Close
---
Bev Davis '62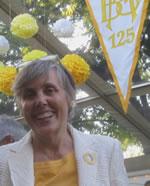 I decided to make a planned gift to Bryn Mawr a number of years ago, and that decision is even more meaningful to me today than it was then. Originally, naming Bryn Mawr in my will was a way for a cash-poor, would-be donor to make a small acknowledgement of the school, with no impact on my annual budget. It was almost a sentimental gesture. Now, my commitment has new energy, and my gift's potential usefulness to Bryn Mawr has grown. I really feel that I will be helping through my personal contribution to keep Bryn Mawr and its programs vigorous in a new century.
Read More
The future of Bryn Mawr is something that is very much top of mind for me, especially as I consider my 50th Bryn Mawr reunion. I see my gift as an expression of hope and faith in the school. When I'm long gone from this world, I'd like Bryn Mawr to still be in it – living and thriving and educating wonderful girls. And, of course, while I'm still here, I'd like to see my fellow alumnae and many others become inspired to make a planned gift and to join the rolls of the Ex Solo Ad Solem Society.
Close
---
Elizabeth McKenrick Winstead '56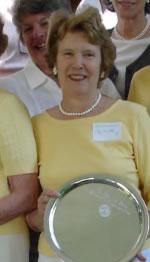 I am a member of Ex Solo Ad Solem, because I value my Bryn Mawr education so highly and am eager to help others have the same opportunity. I started at Bryn Mawr in the middle of the second grade, and loved it from the moment I walked into Mme. Adamovich's French class, which is my first memory of the school. I always knew I was in a very special place and that it was a privilege to be there.
Read More
Attending Bryn Mawr came at great financial sacrifice on the part of my parents, who had three of us in the school, and I am forever grateful for the help we had along the way. I benefited from some scholarship funds, and when they were insufficient and my parents were about to withdraw us from the school, Miss Van Bibber offered my mother the position of Librarian, which she loved and which kept us at Bryn Mawr.
It gives me the greatest pleasure to think that by making a planned gift to Bryn Mawr, I can contribute to a life-changing experience for other girls. We have already established The Elizabeth McKenrick Redwood Fund in honor of my mother, and its purpose is to make available funds for the extras that come up, such as field trips, sports equipment, and books – expenses that can be very burdensome. I have also included Bryn Mawr in my will so that I can be sure that Bryn Mawr will be there for future generations of lucky students.
The richness of my friendships, the devotion of our teachers to the highest academic standards, the long history and traditions that we were part of have always been a part of me. Bryn Mawr has become even stronger in many ways since my time there. I hope that including Bryn Mawr in my estate plans will help other families give this wonderful experience to their daughters.
Editor's note: We regret to announce that Elizabeth McKenrick Winstead '56 died on March 24, 2012. We are happy to share her words, as she wanted very much to encourage others to include Bryn Mawr in their estate plans.
Close
---
Helen Bowdoin '56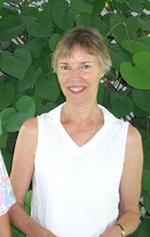 Making a planned gift is my way of thanking Bryn Mawr. Including Bryn Mawr in my will has been particularly meaningful because the school was something of an anchor for me. When there were sad years at home, my teachers and friends were there to counter that. I will always have a deep affection for the place and the people.
Read More
Although many teachers during my 13 years at Bryn Mawr added immeasurably to my personal and intellectual growth, my kindergarten and first-grade teachers, Miss White and Miss Clark, remain my top favorites. Even now, when I come back to Bryn Mawr for Alumnae Weekend or just to visit, I find myself drawn to the Gordon Building, where we had our first classes and to the old playground where I remember the fun of jumping rope with my friends.
It's heartening that so many women in the Class of 1956 have decided to become members of the Ex Solo Ad Solem Society. In addition to expressing my thanks to Bryn Mawr, my gift is in honor of Raymond Smith. Though not related, he helped raise my sisters and brother and me. Raymond died when I was just 13 years old. He was a much loved part of our family, but it took years to fully appreciate just how much he had given us. Raymond didn't have the advantage of an education like ours. I hope my bequest will help girls who otherwise wouldn't have the opportunity to go to Bryn Mawr. A bequest is a wonderful way not only to honor the school but to recognize someone in your life whom you especially valued and loved.
Close
---